Public Power Week
October 7-13, 2018

Spencerport Municipal Electric celebrates Public Power Week by offering all of our Customers a complimentary
4-Pack LED 9-watt Light Bulb Package.
View the flyer
A Message from the Mayor
July 23, 2018 - It has been brought to my attention that a Giant Hogweed has been identified along Northrup Creek off of Webster Road.  Please be aware of this plant and if it is found call the NYS DEC immediately. Below is information about the Giant Hogweed and a link to the NYS DEC website.

Giant Hogweed - Do Not Touch This Plant!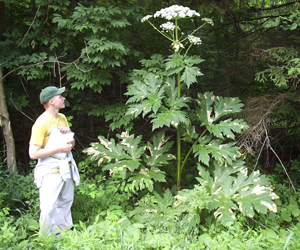 Giant hogweed can grow to 14 feet or more

Giant hogweed (Heracleum mantegazzianum) is a Federally listed noxious weed. Its sap, in combination with moisture and sunlight, can cause severe skin and eye irritation, painful blistering, permanent scarring and blindness. Contact between the skin and the sap of this plant occurs either through brushing against the bristles on the stem or breaking the stem or leaves.
What to do if you come in contact with giant hogweed:
Immediately wash the affected area thoroughly with soap and water and keep the area away from sunlight for 48 hours. This plant poses a serious health threat; see your physician if you think you have been burned by giant hogweed. If you think you have giant hogweed on your property, do NOT touch it. Please refer to our Health Hazards & Safety Instructions for Giant Hogweed for more information.
A Message from the Mayor

April 15, 2018 - As the fiscal year for the Village of Spencerport is coming to a close at the end of May, I wanted to take this opportunity to thank all of the residents of the Village of Spencerport for enduring this never-ending winter with the hopes of a beautiful spring and summer, when they get here. I would like to also acknowledge the entire staff of the Village of Spencerport for their hard work throughout the entire year. Each department equally plays a role in the outstanding services that the residents have grown to expect and appreciate.
The Department of Public Works completed many projects throughout the year including paving and crack sealing various roads throughout the Village; the addition of the lighted crosswalk signs on Union Street at Lyell Avenue; installation of a security camera at the Spencerport Depot and Canal Museum; continued sanitary sewer maintenance and slip lining and the replacement of various pieces of equipment. Crews went out for 71 salt runs using 175 tons of salt and 41 plow runs.
Spencerport Municipal Electric continues to upgrade the electric system to provide uninterrupted power to its customers. Additionally, SME crews provided mutual aid to neighboring communities throughout the state to restore power to their areas during their storm events.
The Village Office realized a bit of a face lift with a fresh coat of paint, new carpeting and new chairs in the Board Room. The office staff also implemented a new online billing system for Electric Bills to be viewed and paid online.
Last, but not least, the Village of Spencerport Board of Trustees adopted the 2018/2019 Budget effective June 1, 2018. During the upcoming fiscal year residents will see a reduction in their tax bills with no reduction in services. This is a $19.43 reduction in the tax bill from the previous year on a home valued at $100,000 using 50,000 gallons of water. This was possible because of the increase in the assessed value of Village properties, the use of unreserved and reserved fund balances for the purchases of equipment and completion of projects and the final payment of a bond that was issued in 2008.
Road work will be done on Clark Street and Maplewood Avenue. Micropaving on various roads and new sidewalks will be installed between East Avenue and the Unique Shop. These projects as well as many others including free Sunday Summer Concerts along the canal will continue while keeping the Village annual budget below the 2% tax cap.
In closing, these projects would be impossible without the cooperation of the entire Village Staff. With these projects temporary road closures and electric outages are necessary. I assure you that we will make every attempt to keep any inconveniences at a minimum and appreciate everyone's cooperation.
Respectfully,
Gary Penders, Mayor, Village of Spencerport
The Village of Spencerport introduces the "Buy a Bench" program
Individuals, Families, Community Groups and Businesses can now buy a bench to replace an existing village bench or have it placed in the new location. All benches include an engravable plaque. Please use the attached form to place your order.
SME Introduces the ability to View and Pay Your Electric Bills Online!
Customers can manage and access your electric account online at your convenience. It's easy, safe and secure! It is free to access your account and sign up for paperless billing. There will be a convenience charge associated with the method of payment you choose.