"With Reverence for our Past & an Eye to the Future"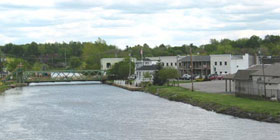 The Mayor and Board of Trustees of the Village of Spencerport at the beginning of a new decade in our history have chosen a proactive approach to preserve the history and culture designed for us by our forefathers as well as to embrace the progress that has been made since our Village was founded by Daniel Spencer in 1804. Once a rural farm that was later divided into village lots when the Erie Canal was built, it intersected the farm at the Canawaugus Road. First called Spencer's Basin, this busy new port greeted tradesmen and new immigrants as they found their way up the Hudson, through "Clinton's Ditch" to make new home for their families in America's Heartland. The name was changed to Spencerport when so many other communities along the Canal adopted the "basin" for their name. Incorporated in 1867, Spencerport looks forward to celebrating 150 years in 2017.
In the late 1800's Spencerport was a bustling Canal center. Its' thriving Business District included 3 grocery stores, 2 drug stores, 1 furniture store, 2 meat markets, 3 hotels, 6 practicing M.D.s and many more successful merchants who served the needs of the Village residents and the surrounding rural countryside in the Town of Ogden. With the advent of motorized vehicles the travel along the Canal changed dramatically and caused once thriving ports to become quite Villages and bedroom communities of the City of Rochester.
In the mid 1900's, Spencerport chose to join the New York State movement to revitalize the Erie Canal and to once more become a busy Port, this time catering to tourism and the recreational needs of its residents and neighbors. Development along its shores include the Clyde Carter Memorial Gazebo, Lester Merz Pavilion, the Spencerport Depot and Canal Museum, over 600' of boat docking facilities complete with electric, water and restroom/shower facilities making Spencerport a popular destination for travelers.