Street Trees
The Village of Spencerport has undertaken a program of removing and replacing trees in declining health. These trees are located in the village right of way along both sides of the road. In order to sustain the village tree population we plant new trees annually.
Sidewalks
The Village of Spencerport has 11 miles of sidewalks throughout the village and has completed the first phase of a sidewalk repair and replacement program. Phase Two will focus on improving pedestrian safety and quality of life in neighborhoods by investigating potential new sidewalk installations.
Leaf Pickup
Curbside leaf pickup begins in mid-October and continues on a daily basis until the beginning of December or until the first heavy snowfall. To help make leaf pickup easier for yourself and our DPW staff we request you follow some simple guidelines:
Do not place brush, rocks, pumpkins, wood, plastic, or other foreign material with your leaves
Please do not bag your leaves
Please do not place leaves on top of drainage grates
Large amounts of grass clippings clog the machinery!
Dig Safely – Call 811
Homeowners often make risky assumptions about whether or not they should get their utility lines marked, but every digging job requires a call – even small projects like planting trees and shrubs. The depth of utility lines varies and there may be multiple utility lines in a common area. Digging without calling can disrupt service to an entire neighborhood, harm you and those around you and potentially result in fines and repair costs. Calling 811 before every digging job gets your underground utility lines marked for free and helps prevent undesired consequences.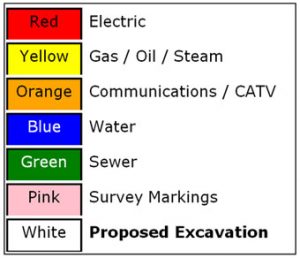 Ever wonder what those little marker flags in the yard mean?
Red = Electric
Yellow = Gas / Oil / Stream
Orange = Communications / CATV
Blue = Water
Green = Sewer
Pink = Survey Markings
White = Proposed Excavation
Christmas Trees
Collected curbside by village employees December thru February.