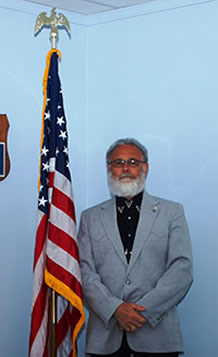 Contact at: rkuntz@vil.spencerport.ny.us
My family and I have always lived in the Spencerport School district and my daughter graduated from Spencerport. She moved into the village about 8 or 9 years ago and we now have 2 grandsons.
Four years ago my wife and I moved into the Village of Spencerport. We love it here so much I wanted to get more involved. I have attended the village meeting almost every month since we moved here. I like how the village has improved (grown) just since my daughter moved here. I have a good relationship with some of the village employees & many residents.
Due to a vacancy I was appointed Trustee in September 2014 and elected in March 2015.
I enjoy the position and I feel I'm a good fit because of my background and experience.
Background and Experience
1966-1968 Army-Korea-maximum security area-Secret Clearance
1968-Present-member in good standing-Local 435 Laborers Union-(Construction)
1968-1986-worked in the field-about 17 of those years as a Foreman & tunnel Walking Boss – Various Jobs included-Rebuilding West Ridge Rd. from old Rt. 47 to Stone Rd., Rt. 390 N. from Lyell Ave. to Ridge Rd. (was originally Rt. 47); Widen Elmgrove Rd. from Rt. 31 to canal including new canal bridge; Rebuilding Van Lare Treatment Plant;Rt. 390 S. from Lehigh Station Rd. to present NYS Thruway including new toll area; 8 years on various Rochester tunnel projects
1987-2008-appointed to Union Secretary Treasurer / Business Agent, Various Duties included-Receipts & Disbursements, Assist members, Record Retention, Manage Building-tenants, maintenance, etc., Benefit Funds Trustee, Auto purchase company vehicles – 2008 – Retired, but still member in good standing
Side Job – Plowed snow for 29 years
Volunteered the last 3 years helping with St. John's Garage Sale in Spencerport