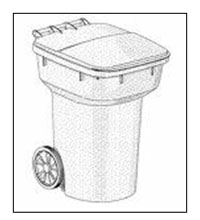 All refuse must be in a rolling refuse container purchased from the village. Plastic or metal cans, cardboard boxes, paper barrels or paper bags are not acceptable standard containers for refuse. We cannot take any refuse generated by some one other than the resident at that address.
Village of Spencerport collects refuse once a week on a preset schedule. Please place your refuse curbside no earlier than 24 hours prior to pick up. If a week contains a holiday, put out your refuse on your regular day, if your pick up is on the holiday put out your refuse on the next work day. If equipment and personnel are available we will try to get back on schedule. If that's not possible we will get it the next day. But there will be only one pick up per address per week.
The village will not accept grass in bags or cans. The homeowner must compost or mulch grass clippings.
Standard Stickers are available at the Village Office and are required to be visibly attached to the following items:
Additional container $2.00 each
Tires $4.00 each
Appliances containing Freon $20.00 each – Remove Doors
Blue Box – $9.00
TV's, CRT's, Computer Monitors $10.00 each
Chargeable Bulk Pile 4' x 4' x 8' $50.00 each
Additional Fees
Refuse Cart $65.00
Each item of Furniture or roll of carpet $10.00
Unacceptable Refuse
The Village can not collect fluorescent bulbs or tubes, gas tanks, propane tanks or any pressurized or flammable items. Infectious waste, hazardous chemicals and oil will not be collected. Contact Monroe County Hazardous Waste Program 760-7600 for information.
Refuse and Recycling Schedule
Monday – North of former R.R. Underpass, West, Clark, Martha (North of former R.R.tracks) Canal Rd, Cottage, Church, Amity, Evergreen, Ballard, Bauers Cove, Upton, Mill, North Union, Bowery, Canal St, Canalside Dr, Waterside Ln, Glen Cairn Ct, Hannah Grace, Jessica Lane, Weatherstone Way.
Tuesday – South of former R.R. underpass & East of Union but not Union St itself, Deerborne, Lyell, Prospect, Hillside, Hillcrest, Parkhurst, Coleman, Coolidge, Maplewood and Nichols East of Rt 259, Union Hall.
Wednesday – Union St south corner of former RR underpass, Nichols West of Rt 259, Kirkgate, Coventry, Morningside, Laurelcrest, Harwood, Thorncliff, Brae, Hawthorne Luther Jacobs Way, Sableridge Ct
Thursday – Brockport Rd, Village Walk, Village Walk Circle, Village Trail, Village Hill, Hilltop, Brittain, Highview, Pinecrest, Martha St south corner of former R.R. Tracks, Brockport Rd, Nicole Dr. Hidden Trail.
Friday – All residential and commercial dumpster pick ups and cardboard pick up from Spencerport businesses
Holidays
If your refuse is scheduled to be picked up on a holiday we will collect it the next work day. The rest of the week will remain on schedule.
Rolling Refuse Container